Annapolis Hotel Search

Welcome to Annapolis, Maryland!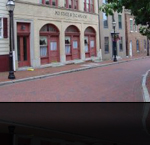 Annapolis, the capital of Maryland, is 350 years young. It is a vibrant city, proud of its charming colonial heritage, while offering visitors the latest in dining, accommodations, shopping and entertainment.

Annapolis is home to the United States Naval Academy and St. John's College, a liberal arts college with a history going back to 1696. Annapolis is well known as a center of sailing and boating in the Mid-Atlantic. Our neighborhood of Eastport, across the bridge from downtown Annapolis, retains much of its old maritime character, showcased at the Annapolis Maritime Museum. read more...