Welcome to Annapolis, Maryland!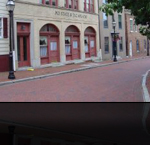 Annapolis, the capital of Maryland, is 350 years young. It is a vibrant city, proud of its charming colonial heritage, while offering visitors the latest in dining, accommodations, shopping and entertainment.

Annapolis is home to the United States Naval Academy and St. John's College, a liberal arts college with a history going back to 1696. Annapolis is well known as a center of sailing and boating in the Mid-Atlantic. Our neighborhood of Eastport, across the bridge from downtown Annapolis, retains much of its old maritime character, showcased at the Annapolis Maritime Museum. read more...
Though the record-breaking heat seems to be telling us otherwise, summer is winding down rather quickly. While planning with friends and family how to spend the next couple weeks, there is an event right around the corner that will allow you to dance, sing, and sweat out those end-of-summer blues; Silopanna Music Festival.
Hailed as Annapolis's largest music festival, the event will be taking place this Saturday, August 11 in the Anne Arundel County Fairgrounds. Headlining this year will be Cake, Citizen Cope and G. Love & Special Sauce, among 17 other fantastic acts. Styles ranging anywhere from blues, to rock, to singer-songwriter will have the crowd stomping, swaying, and singing along. A number of the performers, Pasadena and Jimmie's Chicken Shack to name a few, are proud Maryland natives themselves.
Great music in a bustling city seems like something almost everyone would enjoy, but last year, a certain lady stood in the way of the first-ever Silopanna festivities; Hurricane Irene. Feat not music-lovers, because this year's event will be rain or shine.
Come hungry because gourmet food trucks out of Washington D.C. will be vending an assortment of rocking food; Cajun, pizza, empanadas, crab & lobster rolls and a favorite summer treat craved by all; ice cream.
The first act goes on at 11 a.m. and the music will not cease for close to 12 hours! The festival is open to all ages and regular-priced tickets are available for $59.50. Tickets and a full set list are available through the following link: http://tickets.silopannafest.com
On the day of the event, they will be available for $75. VIP tickets are also available online for $195. Exclusive amenities will include preferred parking, access to a shaded tent, complimentary beer and wine, a dinner buffet and private bathrooms. (Will be sold for $250 on the day of the event).
Don't miss out on the Bud Light Happy Hour! From 11 a.m. to 3 p.m., ice-cold BL drafts will be sold for a mere $3.
Proceeds from the tickets will benefit the Annapolis Musicians Fund for Musicians, a non-profit organization that provides scholarships as well as temporary, emergency relief for musicians in the area due to sickness or injury.
With a great location, a fantastic variety of musicians and more, it's easy to see why Silopanna is the largest music festival in Annapolis; spell it backwards and find out.